Int. Champion Phu Quoc's Jimmy
seine Farbe ist blue tonkanese mit weiß, Blutgruppe A
Mama: IC Phu Quoc's Shalimar - Papa: IC Phu Quoc's Aris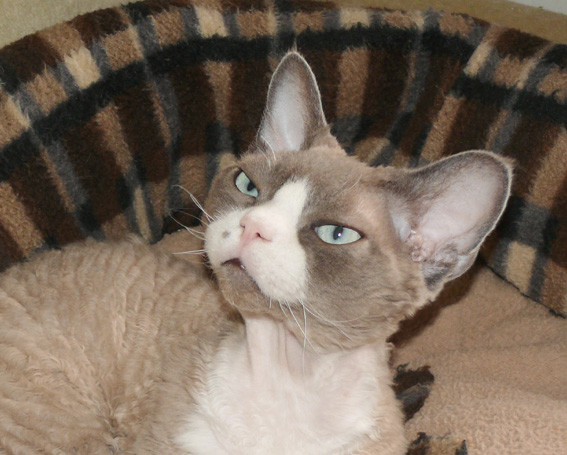 Phu Quoc's Jamal
weiß, grüne Augen, Blutgruppe A
Mama: GIC Phu Quoc's Chloé - Papa: GIC Iskra's Jaguar

Int. Champion Noble Rex Jasper
Farbe: schwarz-weiß harlekin
Blutgruppe A - Zuchtkater meiner Tochter Christiane
Mama: IC Noble Rex Amber - Papa: IC Phu Quoc's Aris

Champion Iskra's Jaguar
Farbe: chocolatepoint
Blutgruppe A
My cattery was established in 1977 and is 1. DEKZV (Fife) registered.
Mijn cattery werd in 1977 opgericht en is bij de 1. DEKZV (Fife) geregistreerd.

All my cats are FeLV- & FIV, FIP-negativ
and vaccinated against Feline Infectious Enteritis,
Infectious Respiratory Diseases, Feline Leucose and Rabies.
Al mijn katten zijn FeLV- & FIV, FIP-negatief
en tegen katten- en niesziekten, katten leukose en hondsdolheid gevaccineerd.


Occasionally I have beautiful show, breeder or pet quality
Nu en dan heb ik mooie tentoonstellings-, fok- of huisdier kwaliteit
We do not ship. We ask you to pick your kitten up at our home!
We verschepen niet, maar vragen u uw kitten bij ons thuis af te halen!
If you are interested in any of my babies,
please email me
Mocht u geïnteresseerd zijn in één van mijn babies,
e-mail mij dan alstublieft.

Ingrid Höhn

Email: weltsiegerdevonrex@yahoo.de